Take Advantage of Fast Approvals & Low Rates!
Rates as low as 1.74%
Receive an additional 0.25% off your qualified rate when applying online.
Just by applying online you will receive an additional 0.25% off your qualified rate

Mechanical Repair Coverage

that includes 24-hour emergency service, rental and travel expense reimbursement

Finance 100 percent of your purchase
Our loans are available to finance new and used vehicles, RVs, motorcycles and boats and include the following features:
Let Consumers Credit Union help you shift into the next gear of vehicle ownership.
For more information or to apply by phone, please call 877.ASK.CCCU
(877.275.2228 ).
Reduce your qualifying auto loan rate by 0.25% when applying online.
*Not all applicants may qualify for the fixed base rate. Your rate is determined by your credit history. Rates listed above include applicable discounts of 0.75%APR. Applicants applying online may reduce the lowest qualifying rate by an additional 0.25%APR - for details please ask a CCU Rep. VISA, variable, real estate, share secured and existing CCU loans are excluded from any rate deductions.
---
Car Quotes
Rates as low as 1.74%

---
Auto Center
When you find the right vehicle, you want to start moving. We promise quick loan decisions to get you on the road sooner. Find your next vehicle with CarQuotes, offering special Member prices on new and used cars. CarQuotes eliminates the haggling and aggravation normally associated with purchasing a vehicle. Consumers Credit Union eliminates the long wait for loan approval.
---
Mechanical Repair CoverageNot having to worry about future auto repair costs is priceless. Get your free quote for customized repair coverage on your vehicle today.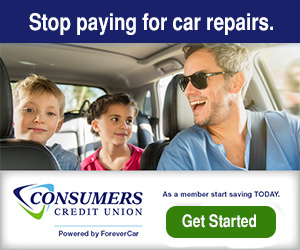 Vehicles at Enterprise Rent-A-Car spend an average of 12 months in the fleet receiving regular maintenance, based on manufacturing guidelines, while being cleaned after every use. If you're considering a used vehicle, make sure to search what Enterprise has to offer.